Musings Blog
Muna's Musings Blog #3: Stephen King with Terry Gross, Fresh Air
December 29, 2020
I learnt this today about Stephen King's creative process and made me ponder my own.
SK enters into his 4 hours of imaginary space, where he leaves the 20 hours of real life. What he encounters in those 4 creative hours I used to have as my practice of studio time as a choreographer-dancer, to enter into a magical space that I do not judge, but ride it like a unicorn to reveal a new landscape, until the destination is reached through valleys, dales, caves and mountaintops. Where the destination is or even if there is one remains forever a mystery.
For almost 50 years, all those hours I have my solo ritual: warming up with stretching, Pilates core crunches, ballet barre routine. Followed by an hour of listening to weird music I've collected from "New Music" programs (no Spotify or web-based search) in which I hope to find inspiration, or scraps of text I've jotted down that week from all kinds of sources: poetry, journals, the numerous books I was reading simultaneously. Often boredom and frustration or naps proportionally equals or surpasses the glorious minutes of pure inspiration. But when they do, it's like having smoke take shape, into phrases I body swim into, diving deep into the ocean, coming up for air when the shape has solidity into repeatable architecture of choreography.
My mentor Jean Erdman used to always quote her husband, Joseph Campbell: "you enter the studio like a bricklayer, you just put in the hours, you lay brick after brick, and you'll eventually have a wall."
So how many walls have I built in those 50 years? They number in my CV impressively. However, people generally remember 1, 2, maybe 3 at most. Myself, I have my faves, but then one is never supposed to judge one's work.
Now I don't do regular studio time as such anymore. Occasionally I venture there, but the need or discipline is no longer there to compel me. So this leads me to ponder the following:
What is retirement?
What is taking a pause?
What is guiltless leisure?
What is indolence?
An artist never needs to take a vacation?
Muna's Musings Blog #2: Thanksgiving
November 26, 2020
–
On this day in 2020, not traveling, not gathering with anyone besides Chris. I reminisce about a very memorable, special thanksgiving in Tallinn, Estonia, in 1995.
My troupe of American dancers and musicians: Marika Blossfeldt, Dina Emerson, Bruce Gremo, Lisa Karrer, Richard Siegel, Bruce Gremo and I embarked on a USIA funded tour to perform a chamber version of my "hit" show The Pink which premiered in 1994 in Hong Kong with a company of US-HK co-production of 22, then in New York with a similar size cast. We then made a touring chamber version with a small core group of my performers, to be joined with local performers of different sizes. We had already toured to several American cities. Through Marika, who is German-Estonian, we were invited to perform in Tallinn, Estonia, in the International Festival of New Music NYYD.
We arrived in November a few days before thanksgiving. The beautiful old town glistened silently in ice and snow, Splendid Hansa style architecture houses huddled around the central town square. Every house had a lit large candle on its stoop (a kerosene candle) and all the windows glowed with little candles. It was a true vision of winter wonderland, delighting children and adults alike.
We were all billeted in the old town (this was before tourism and hotels) and our performances were to take place at the little precious theater Von Krahl.
I did an audition at the Opera House and selected 4 dancers to join our company: Rene, Oleg, Katrin, Helena. The Opera House dancers were a mix of Russians and Estonians, the training was classic Russian ballet. Wonderful technique. Renee and Katrin were in the process of founding their modern dance company Fine 5, which has a fine reputation to this day. I found all of them very open to improvise and take on ideas totally new to them: contact improv, voice-body relationship for example, and they took to them like fish to water. Yet they were in a way total innocents, not exposed to any historical pedagogue or post-modernism. But then I recognize that in much of eastern Europe, i.e. Poland, there was Grotowski and his physical theater, the Russian avant-garde movements and gymnastics, which the New York scene dancers were sadly not so interested nor even exposed to.
A feature of the opera house made an impression on me: the large lobby had a huge coat check with boot cubbies. I imagined glamorous fur-coated theater-goers bringing their lovely dress shoes to change into after tracking in from the snow piles. But then perhaps I am romanticizing, since Estonia only gained independence in 1991, and its citizens must have endured much hardship during occupation. It was John Le Carre territory, cold war, spy land of secrets and blind treffs.
We had the sponsorship and funding from the US government to appear at International Festivals. I think it was established for John Rauschenberg to represent America at the US Pavilion at the Venice Biennale. As I did not want to deprive my company of thanksgiving dinner, plus it was good diplomacy to meld the two casts together over a meal, I contacted the lovely woman at the US Embassy to help.
So on thanksgiving day, which was also our dress rehearsal before opening the next day to the public, we interrupted our rehearsal to have our meal. The theater had a lovely restaurant downstairs. We descended in our sweaty rehearsal clothes (no time to fuss). The table was laden with a lovely roasted bird, which was more a big chicken than turkey, a roasted whole pumpkin stuffed with rice and vegetables, and roasted apples and potatoes. Now, let me tell you there is no potato on earth tastier than Estonian potatoes. Silky, creamy, in every dish and recipe, and potato vodka which never gave me a hangover: clean distilled for my Chinese constitution.
Over this glorious meal, with full bellies, we retired upstairs to rouse ourselves back into performing mode, and the next day, opened our show to enthusiastic crowds. All the shows were sold out, tickets were around $20 USD, and the monthly wage averaged $200. They loved culture so much, they spent 10% of earnings to see an experimental dance-theater. This moves me to no end, and I find the same devotion to art and culture in my experience of performing abroad in non-first world countries over the years,Bosnia, Israel, Greece…thunderous reception (feet stomping, non-stop clapping). With consensus, the cast and I decided to add a matinee show, which immediately sold out as well.
I recently returned to Estonia in the summer of 2018 to teach a weekend workshop outside Tallinn in residence at Marika's beautiful farm Polli Talu. Arriving in Tallinn, I stayed in a boutique hotel a stone-throw from the little theater (intact with restaurant Vanaema Juures, meaning At Grandmother's). The town square was flocking with tourists who now arrived in plane loads and boatloads, now the country is on the "must visit" cruise ship brochures. Vodka flowed all night long in loud bars, restaurants served international food. Even Starbucks and McDonalds have arrived.
I miss the menu of potato soup and potato pancake in the handful of restaurants which served locals with a mere sprinkling of foreigners (journalists maybe). Thus fortified,we would relax at the wood-fired saunas in the woods, rolling and laughing in the snow, infused and enlivened with vodka in our veins.
Feeling much gratitude for the experience, and the Estonian spirit which still warms my blood and always will.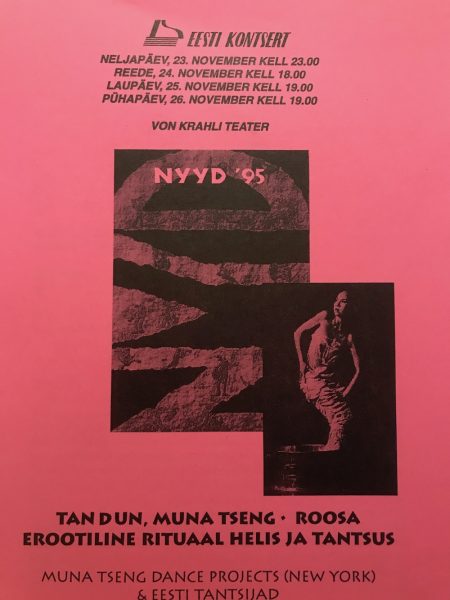 –
Muna's Musings Blog #1:
Jean Erdman: In Memoriam
May 4, 2020
–
When I arrived in New York in 1978, Jean Erdman and Joseph Campbell gave me a creative home to develop as a dancer and an artist. I danced in their Theatre of the Open Eye from 1978-1985. Besides the gift of Joe's wonderful stories (he was the most fabulous raconteur), I treasure my inheritance of Jean's legendary solos: from the earliest "Transformation of Medusa" (1942) to her last creation for Theatre of the Open Eye: "The Shining House" which was based on the Hawaiian volcano goddess Pele. Above all, Jean imparted to me the inner female power. One of my favorite memories was in Athens Greece, we were performing under the full moon shining on the Parthenon, which sat above the ancient Herodes Atticus outdoor Ampitheater. That night I danced in the Greek legends as Io in the Prometheus myth, and as Medusa from her transformation from Virgin to Gorgon. The night was filled with heros, heroines and divinities, both humans and gods. Now Jean and Joe are in the pantheon of art and heaven, joining the gods and goddesses. They gave to humanity their amazing artistic and intellectual gifts, for which we are forever grateful. Thank you both for being my beloved artistic family in New York.