Stories & Talks
Danspace Project Gala 2022
April 5, 2022

The 2022 Dancespace Gala will honor Rebel Angels Muna Tseng and Georgiana Pickett for their decades-long devotion to artists and commitment to community. 
More here. 
Bodies in Motion, Museum of Contemporary Art Denver /
April 7, 2021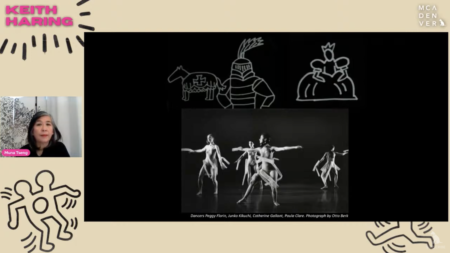 Muna presented a live-streamed talk as part of the Museum of Contemporary Art Denver's Keith Haring "Grace House Mural" exhibition followed by a conversation with Carlo McCormick. Shedding light on the influence of dance on Keith Haring's life and art in New York City in the 1980s – Muna discussed her collaboration with Keith for the set design of her 1982 performance "Epochal Songs" (for which he produced 40 drawings), their relationship with her brother Tseng Kwong Chi, the abundance of talent in their circle of friends, and Muna's ongoing career as a choreographer and dancer. Watch the recorded webinar here.
–
Dance Oral History Project: Jerome Robbins Dance Division at the New York Public Library for the Performing Arts, Lincoln Center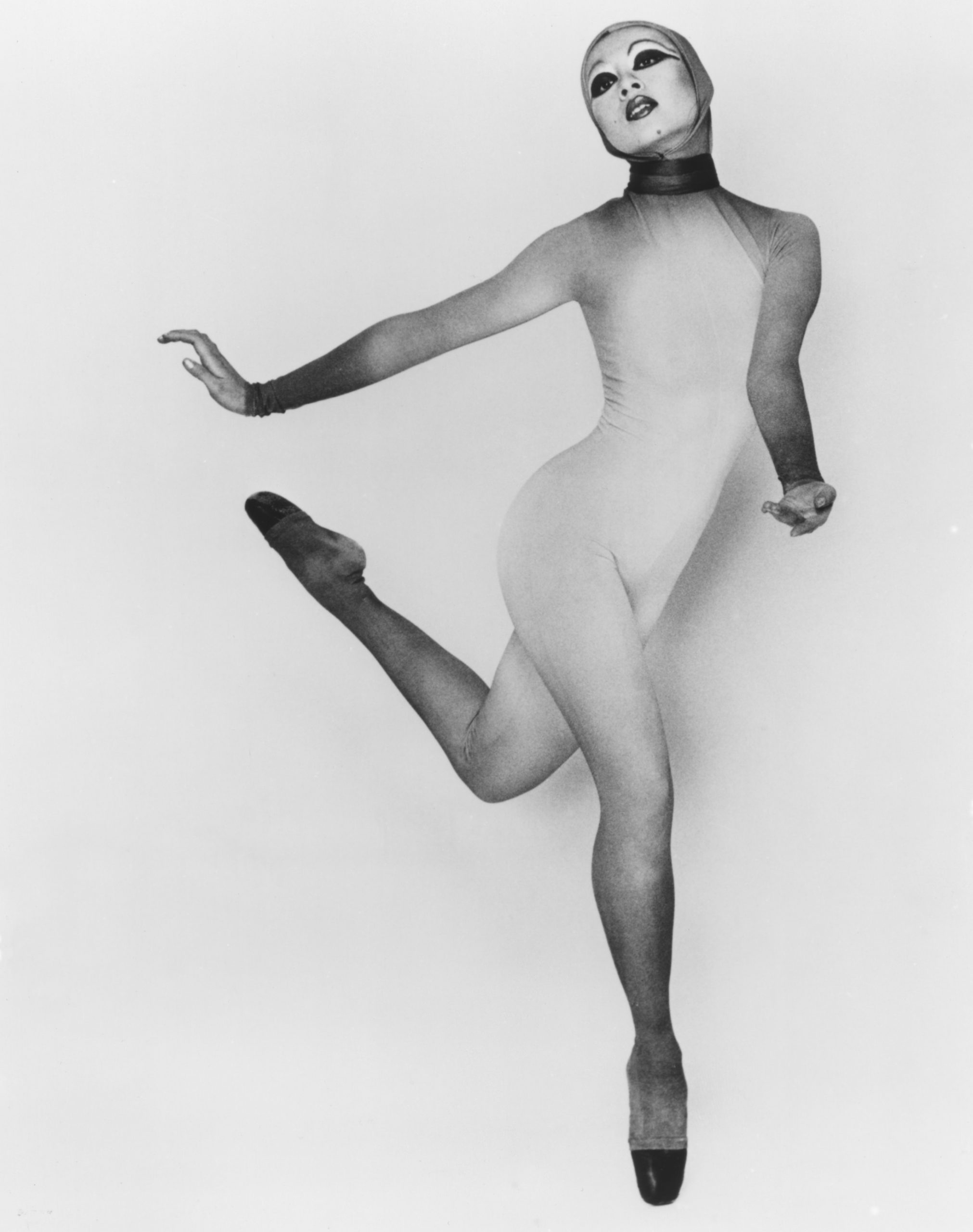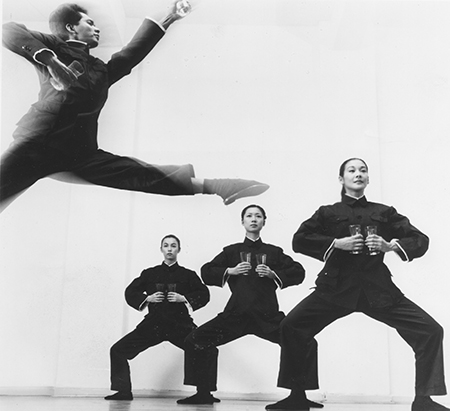 Photograph by Tseng Kwong Chi
Photograph by Tseng Kwong Chi
Muna Tseng in conversation with Lesley Farlow in June 2018, telling the story of her life as a dancer, choreographer, and Creative Director of the Estate of Tseng Kwong Chi. In this excerpt, Muna explains the development of her solo "Water, Water" in 1986  for her debut evening-length concert as Muna Tseng Dance Projects. Listen to the full playlist here. 
–
Visual AIDS Vanguard Awards (VAVA VOOM) / May 16, 2019 / NYC


At the 14th Annual Visual Aids Vanguard Awards, Muna Tseng was honored for her work strengthening the cultural history of art, AIDS and activism in her work for the Estate of Tseng Kwong Chi and for her own dance practice, especially in her elegiac piece SlutForArt, which is in homage to her late brother the photographer Tseng Kwong Chi. The award was presented by Julie Tolentino and a special duet was performed by both Julie and Muna.
–
NüVoices of the Diaspora: An Evening of Storytelling / March 14, 2019 / NYC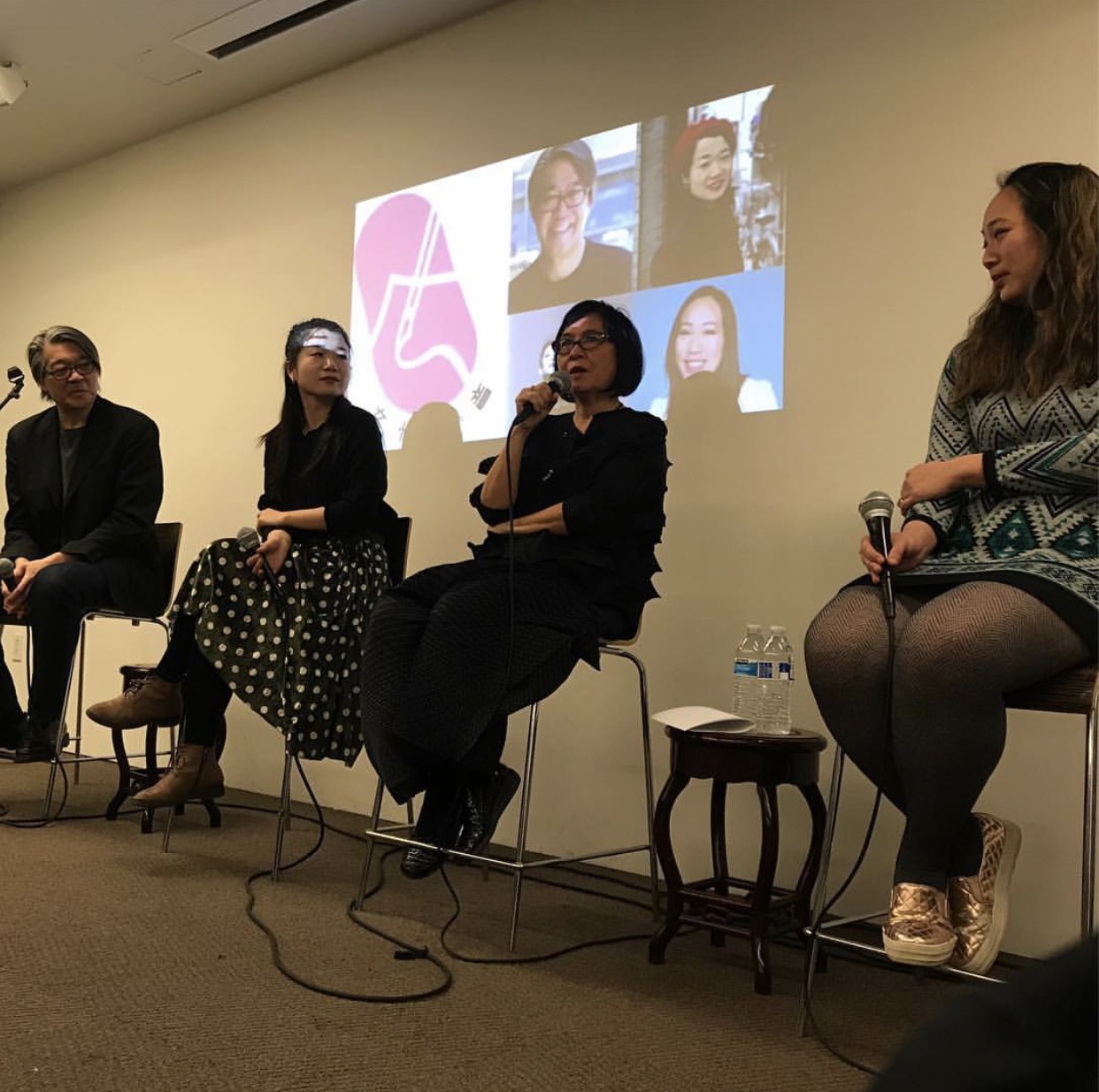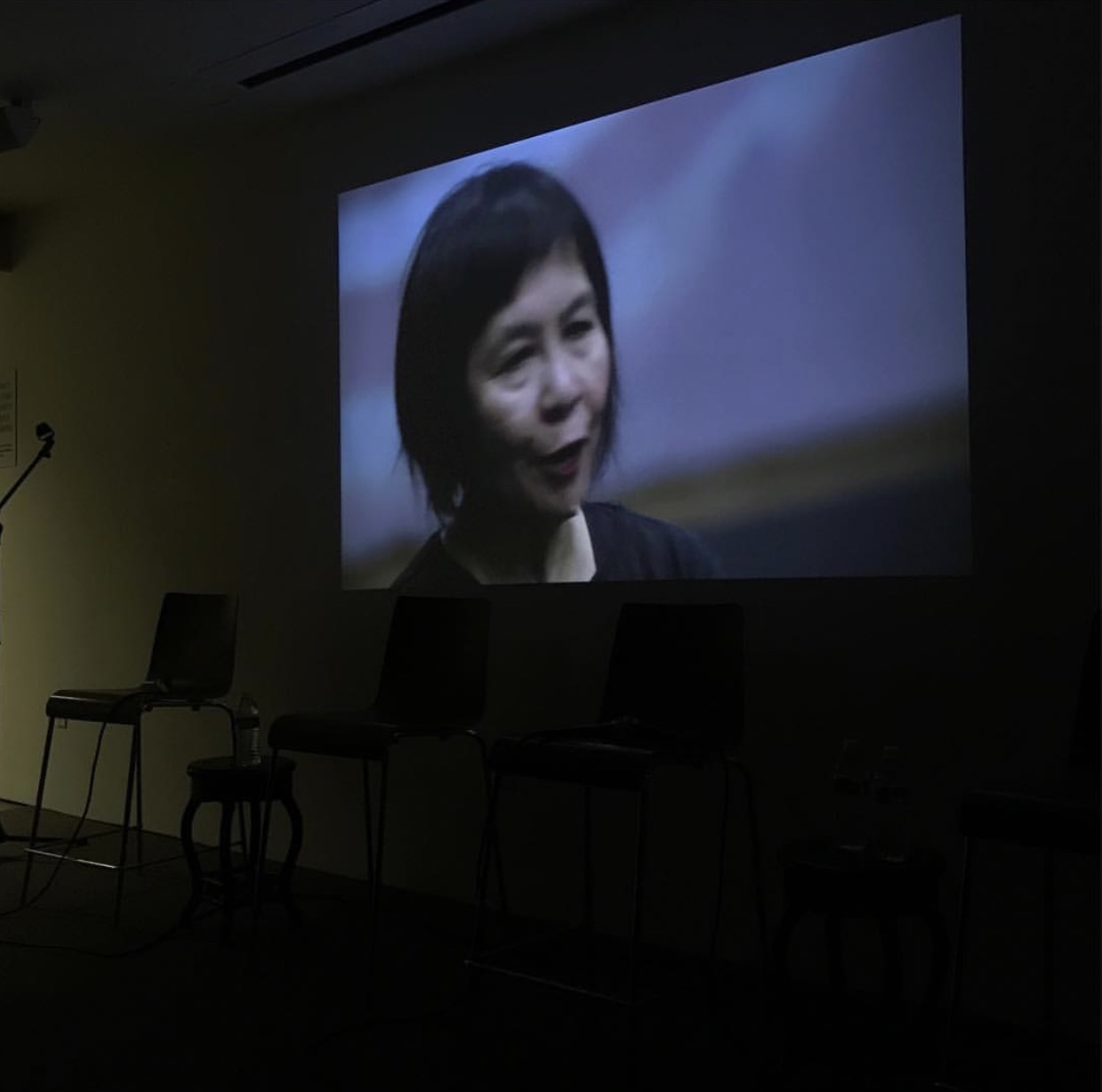 At MOCA Museum of Chinese in America in New York, Muna shared three excerpts of her "Family Portraits" works, which use text, dance and artifacts to tell stories about her paternal grandfather, her mother, and her brother based on their experience of the Chinese diaspora. 
Reading: 98.6: A Convergence in 15 Minutes / April 18, 2018 / NYC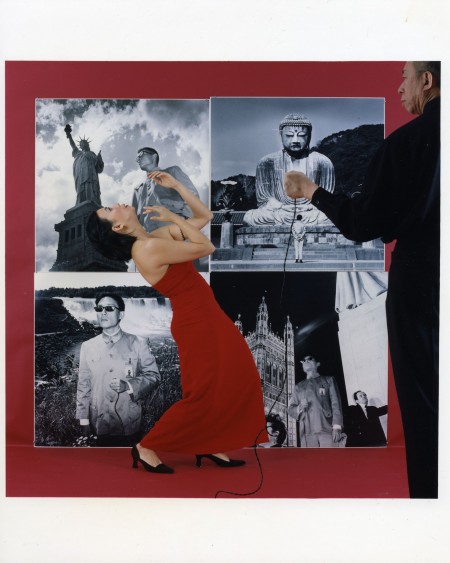 In the intimate and significant setting of the Tenement Museum, Muna gave a reading with collaborator Ping Chong on their dance-theater piece '98.6: A Convergence in 15 Minutes,' a biographical work about both losing a brother.
This event on April 18, 2018 was curated by Pen America for their World Voices Festival.
–
Artist-In-Residence at the Baryshnikov Arts Center, NYC
–
Muna Tseng was an Artist-In-Residence at the Baryshnikov Arts Center for the month of April 2017, where she developed, choreographed, directed and performed a new dance-theater work, IT'S ALL TRUE: GRANDFATHER. Her paternal polygamous grandfather was the starting point in exploring the white-washing of Asian-American history using orientalist tropes; and questioning the notion and value of truth and myth.
Muna Tseng's BAC Story by dramaturge Karen Shimakawa
 Learn more here.
–
StoryCorps Conversation with Nicky Paraiso 

Part 1:
–
Part 2:
–
On August 15, 2016, Muna Tseng and Nicky Paraiso sat down to talk about their shared background as the children of Asian immigrants, artists in New York, and the impact that the AIDS crisis had on their community.
–
After Fukushima / March 2016 / NYC
Muna performed with Perry Yung in After Fukushima: A 24 Hour Event, curated by Eiko Otake for the Danspace Project at St. Mark's Church. This commemorative event on the fifth anniversary of the natural and nuclear disaster at Fukushima, March 11-12, 2016.
–
Confrontations in Context, Nathan Cummings Foundation / March 10, 2016 
Panel discussion organized by the Lower Manhattan Cultural Council that explored the way artists shaped the societal and political landscape of 1980's and 1990's New York. The panel was moderated by Martha Wilson.
–
Fabulous Women / April 2016 / NYC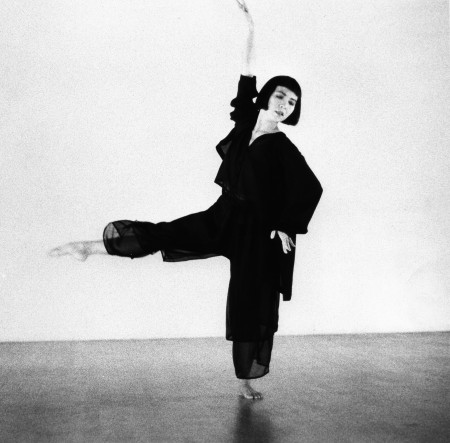 Danspace Project's Food For Thought, April, 2016: curated by Iréne Hultman Monti. As one of the dancers, Muna joined Emily Carson Coates, Jane Comfort, Moriah Evans, Liz Gerring, Patricia Hoffbauer, Iréne Holtman Monti, Doris Reyes, Vicky Schick, and Charmain Warren.
–
A Year In the Life of a 'Bessie: New York Dance & Performance Award' Nominator / July 2016 / Singapore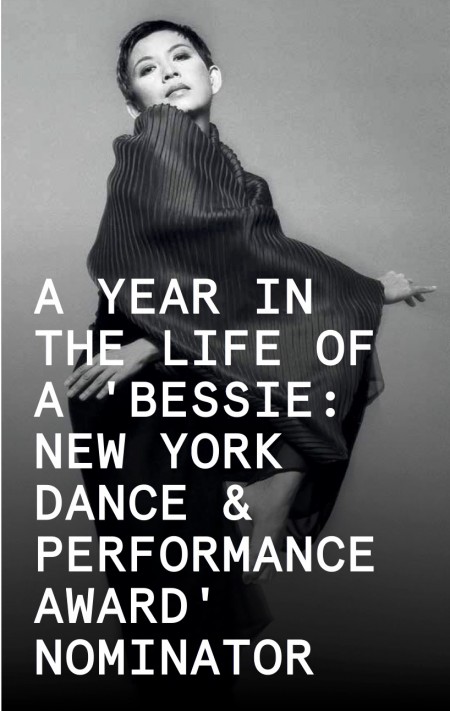 O.P.E.N. Forum, Singapore International Festival of Arts, and Asia Society, Hong Kong, July 2016: A lecture delivered on the hybrid and multi-disciplinary works emerging in the current New York dance practice.
–
Keeping the Legacy Alive Conference, Berlin 2016
Muna spoke on strategies for mid-sized artists' estates in a panel hosted by the Institute for Artists' Estates.
–
Remembering SlutForArt: Tseng Kwong Chi / May 1, 2105 / A/P/A Institute at NYU
Screening and talk with Muna Tseng, Ping Chong, and dancer-choreographer Bill T. Jones, moderated by Karen Shimakawa.
–
Epic Journey: Photographic Legacies, the Grand Palais in Paris, France / November 2015
Muna Tseng discussed her work at the Estate in the Paris Photo platform moderated by Lisa K. Erf.
–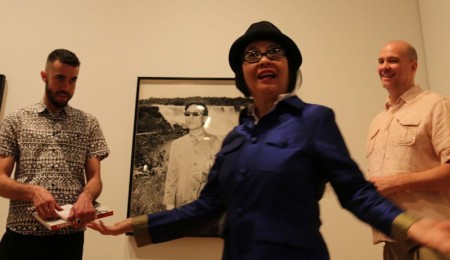 Discussion with Alex Fiahlo of Visual AIDS (l), Muna Tseng, and Pato Hebert (r)
–
Talk with curators Herb Tam (pictured) and Doryun Chong (of M+ Museum)
–
Estate of Tseng Kwong Chi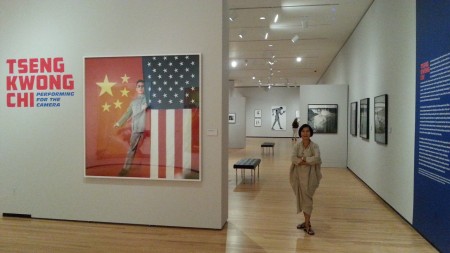 Muna Tseng is Creative Director for the estate of her late brother Tseng Kwong Chi, a seminal photographer of the 1980s. Being the guardian of his legacy, Muna uses archiving as a creative act. SlutForArt, her collaboration with director Ping Chong, mines the estate material, objects, and images by and of Tseng Kwong Chi, to present as living archive. She works closely with curators and scholars in legacy-making.
2015-17 solo retrospective  Tseng Kwong Chi: Performing for the Camera opened at the Grey Gallery NYU and toured to Tufts University Gallery, the Chrysler Museum in Norfolk, Virginia, and the Block Museum of Art.
In January 2020, Muna sat down with ArtAsiaPacific Magazine to talk about her brother and his work: